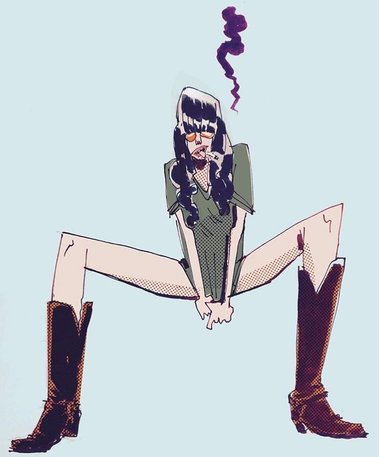 Hi, I'm Mandy-Lyn. I'm a photographer and writer that would love to make feature length movies. Especially animated ones,
with speeding motorcycles... and naked people dancing in the moonlight and psychedelic satanists and brain melting soundtracks. If you're an animator or an illustrator who'd like to collaborate, please drop me a line. I was born, raised and live in a kind of remote place on Canada's West Coast. It's spooky and magical and wild, I really dig it. I shoot most of my photos of my pals. I use drugstore film and an old Canon my Grandpa gave me.
I love rock n roll, blues, cowboy songs, Elvis, soul, heavy metal, twanging electric guitars, Randy Rhodes destroying a solo, crazy hillbilly mountain music... I make cassette mixtapes full of my favourite stuff. I've got a radio show called MAGIC HOUR and man, it rules. You can listen to the MAGIC HOUR here.
See thousands of uncensored photos, videos and complete sets from my archive of work for just $6.66 a month. The small monthly token of appreciation for the analog helps very much with buying and processing my film.

My photographs have been seen in Juxtapoz, Vice, Penthouse, Choppers Magazine, Hustler, Vogue Italy and DiCE. I've had the pleasure of collaborating and shooting for some really killer brands like HUF Worldwide, Vans, Altamont, Canada Ammo, Volume 4, CRAP Eyewear, Righteous Products and O MIGHTY.

wanna say hi? hello@mandy-lyn.com
illustration by mauricio
wanna stay up to date with my creative adventures? sign up with your email address to receive news and updates. I wont blow you up... just every once and a while, when it's really good.